Nafudakake
Nafudakake (名札掛け - なふだかけ)
Nafudakake are membership/rank name tags. These are found in traditional schools of martial arts. The variety can vary from simple to very ornate depending on the design and the materials used. Below we present a sampling of the common popular versions you will find today. As always we can customize or create any to your preference.
Style #1 - Peg Rail

Model A - Single Peg Rail

4ft Long 30 6" Slat Peg Rail $50 (plus s&h)
Upgrade to 12" Slats add $20 per set)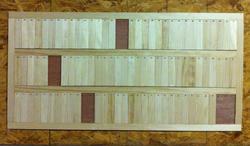 3 Level Peg Board

Pine 2'x4' Mounting - 90 - 6" Slats
Cost" $199 (plus Shipping and Handling)
Customization available with size, materials used plus in personalizing the Name Tags (ie: color, calligraphy, etc.)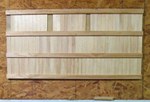 3 Level Sliding Nafudakake Board
90+ 6" Slats $199 plus s&h
to Upgrade to 12" slats request estimate.
Available Slat Upgrades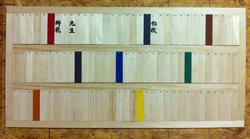 Size Enlargement, Belt Ranking Colors, Japanese Titles and RanksUpgrades:
Colored Slats - set of 9 - $20
Calligraphy Slats - 2 characters - $5 each ($2 each additional character - size of nafuda/slat limits number that can fit)
Discounts available for Bulk and combination packages

Model B - Single Sliding Rail

4ft - 30+ 6" Slats - Sliding Rail $70 plus s&h
to Upgrade to 12" Slats request estimate

Model C - 2 Level Sliding Slat Rails
$99 (plus S&H)
Upgrade to 12" slats request estimate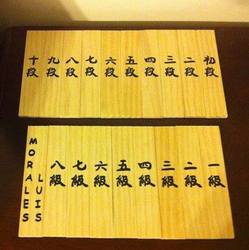 Dan, Kyu and Individual Western Nafuda/Name Tags
(hand brushed)
We offer name translation conversion to Japanese Kana (hiragana & Katakana) and Chinese Kanji Calligraphy Fonts and Custom Originals
(standard sizes are 6" and 12" in length -
custom dimensions available for Length and Width)
Request an Estimate